Steamrolling her way into BRT history
In January 2015, at just 19 months of age, Guardian Bears' Arisha (AKC GCH Arisha Krasa Russkaya Nochnaya Zvezda) reached AKC Bronze-Level Grand Champion status. She sailed into history by becoming the 20th BRT to ever reach this level in All-Time GCH points. We believe she is the youngest BRT to do so.
Now four months into 2015, Arisha has earned an impressive 116 additional GCH points for a total of 180 at the time of this post. She is currently AKC's #1 ranked Black Russian Terrier in GCH points, and has jumped from #20 to the #8 BRT in All-Time GCH points.
Arisha's achievements as of April 2015
- Attained AKC Grand Champion title at 18 months
- Attained AKC Bronze GCH status at 20 months
- Group Placements: 4
- Best of Breed Wins: 28
- Best of Opposite Sex Wins: 39
- Select Bitch Wins: 6
- Best of Winners (BOW) Wins: 3
- Best of Breed Owner Handled (BOBOH) Wins: 3
- BOBOH Group Placements: 1
- AKC Ranked #1 BRT in Grand Champion (GCH) Points
- AKC Ranked #8 BRT in All-Time GCH Points
- AKC Ranked #2 BRT Bitch in All-Time GCH Points
- AKC Ranked #4 BRT (January – April 2015)
- AKC Ranked #6 BRT in All-Breed Points
- 2014 BRTCA National Specialty Best of Opposite Sex (BOS)
- 2014 BRTCA National Sweepstakes Best of Breed (BOB)
- 2014 Eukanuba National Championship Select Bitch (SB)
- Attained AKC Championship title at 15 months
Taking the Southeast by storm
Arisha and pro handler Rhanda Glenn have been navigating the vast Southeast circuit, earning big wins in North and South Carolina, Florida, Alabama, Georgia, Kentucky and Tennessee. Following are some highlights from the shows.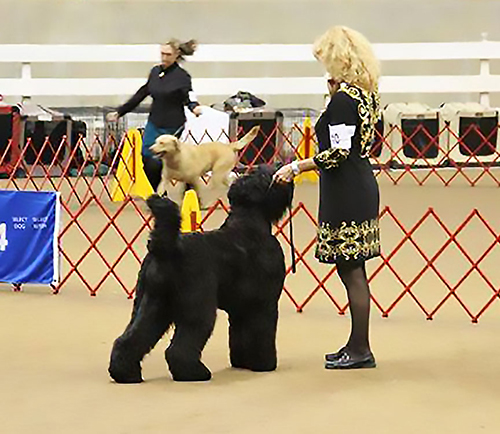 Photos: Pro handler Rhanda Glenn grooms Arisha for the first show of the year in Pendleton, South Carolina. Arisha and Rhanda are shown competing in Pendleton and in Brooksville, Florida. Arisha receives her first Group placement in Brooksville, has a play session with her new Rottie friend, and reaches AKC Bronze Grand Champion status.
A remarkable prelude to 2015
Arisha first entered the conformation show ring in September 2014. She was 15 months old. By year-end she had earned her AKC Champion and Grand Champion titles, won Best of Breed Sweepstakes and Best of Opposite Sex (BOS) at the 2014 BRTCA National Specialty, and was awarded Select Bitch (SB) at the 2014 Eukanuba National Championship.
And she was just getting started! We share the joy of Arisha's accomplishments with her wonderful breeder and our dear friend Alenka Petrovič in Slovenia, and Rhanda Glenn, a pro handler who loves our girl as much as we do.